WE SUPPLY FEMININE HYGIENE PRODUCTS, BRAS, AND UNDERWEAR TO WOMEN IN NEED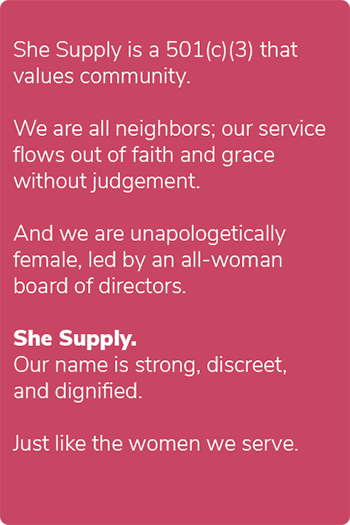 Most women never think twice about taking care of monthly feminine needs. The products are simply added to the shopping list along with other necessities. But what if you were unable to meet those needs because you were too poor to afford them?  Because these basic necessities were considered "luxury" items?
Several of us thought about this while chaperoning teenagers during a long bus trip. Lots of time to think and talk about the effects of poverty on women as it pertains to their basic needs.
Regrouping at home to fine-tune our thoughts, one message kept coming to the forefront: Empower women by providing necessities that others take for granted.
After all, how can a woman do her job at home or at work, feel her best, or exude confidence if she lacks the bare necessities?
The idea was bigger than a one-time donation drive. We wanted this to be an on-going project, one that would fight the effects of poverty through service and friendship to women of all ages. Just like that, She Supply Inc was born.
If you would like to make a donation, click here.
If you would like to host a DIY donation drive, click here.
If you would like to volunteer, please contact us at SheSupply@gmail.com.