There's something about a good hobby that really brings people together.
From knitting to book club, the great thing about a hobby is that anyone can get involved. And you're simply doing it because you love it!
People have even been able to turn their hobbies into donations for charities!
Some do it with donated items and others have managed to have a fundraiser out of it.
This is a story of how a couple of guys came together to raise money for She Supply by doing what they love.
Smoking meat.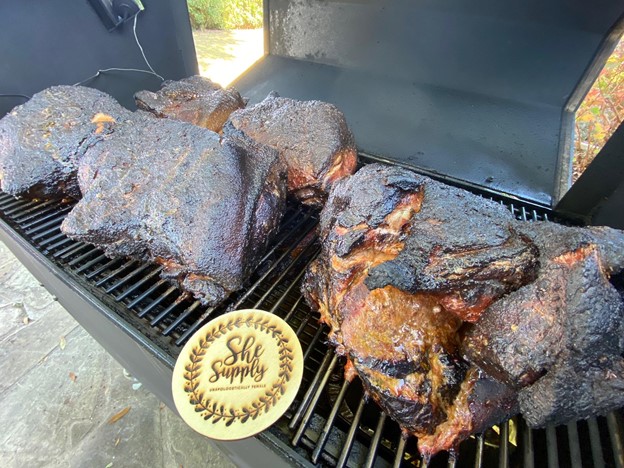 How A Hobby Can Be Turned Into A Fundraiser
Knox Keith — an executive advisor for She Supply — was struck by an idea.
He'd been chatting with Kathy and Maria over breakfast about what they could do to raise money for the end of the year.
They had just had a successful North Texas Giving Day 3 months ago. They were brainstorming how to get the same contacts to donate again.
A few ideas hit them:
End of Year giving video. To remind people that it's good for the community and your taxes!
A dinner party with friends.
Instead of just asking for donations, they wanted to give something back to people.
Knox thought of how his best friend — William Roberts — loved to barbeque.
Considering the time put into it, William always made more than his family needed.
His barbeque was well known and he'd always get requests for it.
William even started up an email list that he contacted every time he'd barbeque.
The first ones that replied would get the meat.
Since the holidays were nearing, they thought a fundraiser would be a great way to provide people with food for the holidays as well as help She Supply raise money.
Knox reached out to William and his wife Katherine Roberts and they were all for it!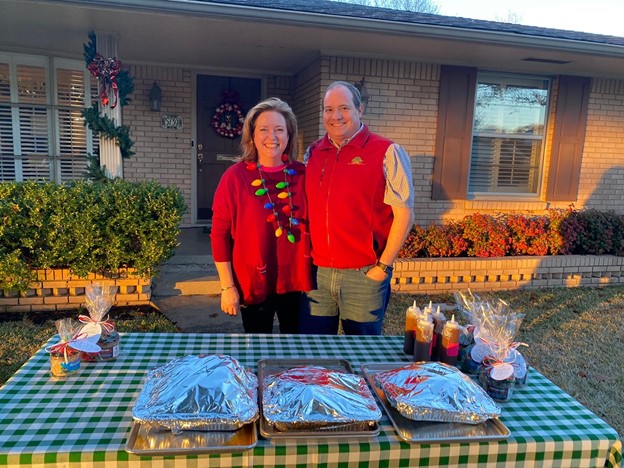 They reached out to Wiliam's email list and let people know about the upcoming barbeque.
But this time around, things were going to be a little different.
Steps To Do An Auction Fundraiser
Instead of William's usual routine of smoking and handing it out to people, they decided to host an auction.
This way people could bid on the meat.
Setting up an auction can be a bit overwhelming. Our brains tend to want to overcomplicate things and this was no exception.
Knox found apps but they were more complicated than what they needed. He decided to go a simpler route.
Here are the steps he took.
1.) Mailing list
First, they got together the email list.
This was an easier step since William already had a list of people.
2.) Build a google sheet
Building a google sheet allowed them to keep track of who made what bid.
After they sent out the email, Knox was in charge of assigning those interested a bidding number.
3.) Email
People placed bids and Knox updated the sheet twice a day.
He sent out an image of the spreadsheet at the end of the day to let everyone know what the standings were.
Sending an image was easier than trying to figure out how to grant everyone the correct permission rights to edit their bid only.
When in doubt, keep it simple.
4.) Last Call
The auction only lasted 3 days. This was enough time for everyone to respond but not so long that it dragged out.
Knox sent out one last email to the bidders. This allowed them to place another bid or to just see where they stood.
Once Knox and William knew who came out on top, they informed the winner of their prize!
The bids ranged between $30-$100 dollars per pound.
The auction ended with 11 bidders and a total of almost $4000 raised!
Men helping a charity for women
Knox himself got involved with She Supply per Kathy's request.
The two have known each other for a long time and had overlapping pasts. Including going to the same camp!
Knox runs his own business so he became an executive advisor for Kathy. Someone she can bounce ideas off.
He attends meetings but he doesn't vote as he isn't an official member of the board.
Knox was glad to be able to use this fundraiser as a way to help spread awareness about period poverty and She Supply.
Most people hadn't even heard of it before and were more than happy to help out.
When Knox asked William about help, his friend replied — "What the heck is She Supply?"
He hadn't heard of it before and neither had Katherine. When she heard about it she said, "bless your heart."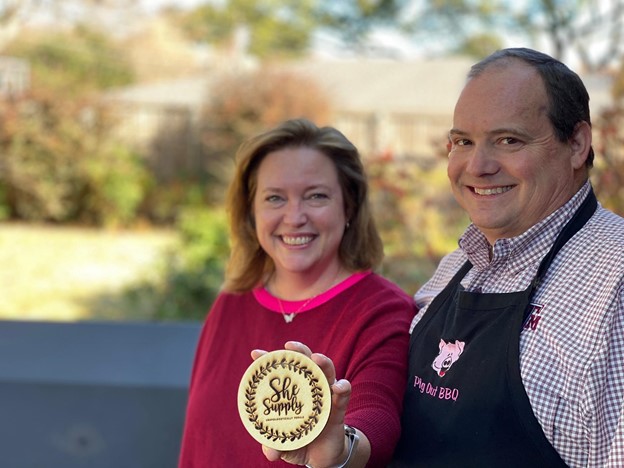 Overall William and Katherine thought the event went really well! The email list William has for his BBQ pickup is about 100 people. He cooks about 8-16 in a day and usually sells out within 45 minutes. It's usually a first-come-first-served kind of thing.
When asked if he would do it again, maybe make it an annual thing? William replied — "I would most definitely be open to doing it again. It's something that I already do and I enjoyed learning about and contributing to something that is clearly a need."
William was most surprised by the conversations that he ended up having with people about She Supply.
One woman who he'd known his whole life told him this was something she did on her own. When period products were at a massive discount, she'd buy them and donate them to a shelter. She had never heard of She Supply and was excited to learn about them.
He also had a conversation with his daughter about it. They had a big picture discussion about government vs private support for specific issues. They discussed why the government may have no funds available and why private companies are so important for picking up the slack.
Closing Thoughts
In the past year where we've been encouraged to social distance and cut back on our gatherings. It's nice to have activities like these to make us feel closer to one another.
A simple email list helped inform more people about She Supply and its mission.
A simple ask from a friend led to a great fundraiser.
A simple barbeque eased the holiday stress.
Good things happen when you share your talents with others.
Is there a hobby you have that could be turned into a fundraiser?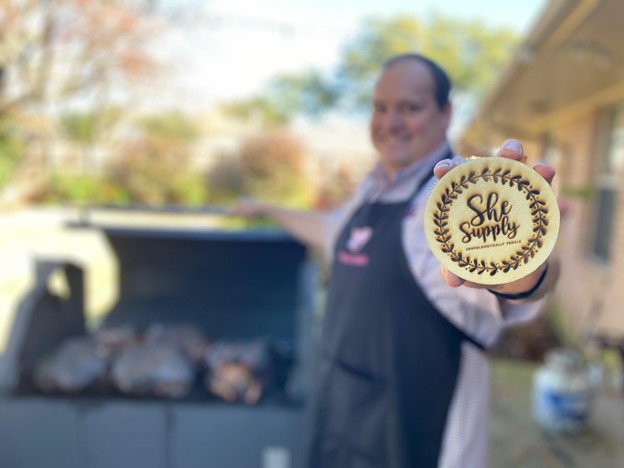 ---
If you would like to help She Supply on their mission to provide a sense of decency and cleanliness to women in need —
Or if you would like to extend your donation even further: