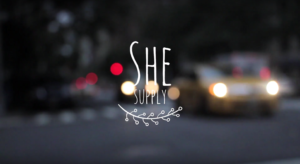 You might be asking, "What is She Supply?" It's simple: We provide menstrual supplies, undergarments and feminine hygiene products to women-in-need. For a woman facing financial challenges—whether she is homeless, poor, or perhaps leaving an abusive situation—being able to afford the basic necessities of being female can be a challenge. A woman is more likely to do without feminine hygiene products when her children have to be fed, or her last dollar goes to keep on the lights. And, you might not know this, but you can't buy them with food stamps…
Even in this day and age, speaking about these products may be uncomfortable, and many women are too ashamed to let anyone know of their need. That's part of the reason these products are some of the most needed items in homeless shelters across the country.
Our goal is to help women that are living in shelters, living in poverty, or due to an unfortunate circumstance, from having to choose between paying for food, rent, or feminine hygiene products.
Watch our new video and hear first-hand how you can impact someone's life.
Your donation means that you understand just how important basic hygiene products can be to a woman. She Supply, through your considerate gift, will help women regain their dignity, self-esteem, and self-respect.