Underwear.
It's that thing you have and yet rarely talk about much. You wear it every day. A habit so ingrained that you sometimes forget you're wearing them!
And since underwear is something we don't really think about, here's a holiday you may not have heard of —
National Underwear Day.
I know, I know, you're probably thinking — "there's a day for that?!"
Of course, there is! There's a day for everything!
August 5th is National Underwear Day.
A lot of people like to spend this holiday promoting positive body image and just being silly with it.
She Supply is looking to take a different approach to celebrate National Underwear Day.
We are also looking to raise awareness of one of the most basic items we take advantage of.
You guessed it — underwear.
Partnering up with Molly Martin— a local realtor — we are looking to raise 200 pairs of underwear for the DFW community.
Clean underwear is something we all need and rarely think about. We put it on at the beginning of the day or after a shower and that's it. But for women in difficult situations, clean underwear is hard to come by. It's also one of those things that don't get donated often.
Needless to say, new underwear is in high demand.
She Supply and Molly are going to deliver!
Why Is Underwear Important?
You may be asking, why underwear?
Sadly underwear is one of the most sought-after items needed by homeless shelters and women down on their luck. Especially when they already can't afford other basic necessities like period supplies.
New women's underwear is in high demand amongst the partner agencies that She Supply supports. We hear directly from those who need it most that it is difficult to get their hands on.
Underwear is one of those basic necessities that we often forget about (like menstrual products). A fresh pair of underwear just makes you feel better. When you put on a new pair you feel fresh and ready to take on whatever challenges may come your way.
A simple pair of underwear can do so many things.
They provide women with hygiene, health, comfort, self-confidence, and dignity.
These are basic emotions that every woman has the right to no matter their circumstances.
Why Donate Underwear For National Underwear Day?
Now is a great time to donate!
Not only will you be helping those in need but you will also be participating in a special promotion that She Supply and Molly are doing such as —
Doubling your donation during a match event!
Molly will be matching donations of up to 100 pairs of underwear. If you really want to make your dollar count, this is the time to do it!
We'll be accepting donations through August 8th.
How you can donate:
Tammy Edwards State Farm
Open 9-5 pm, Mon-Fri.
You can also take advantage of Texas' tax-free back-to-school shopping!
And really, celebrating a funny holiday for a good cause? Who can't get behind that?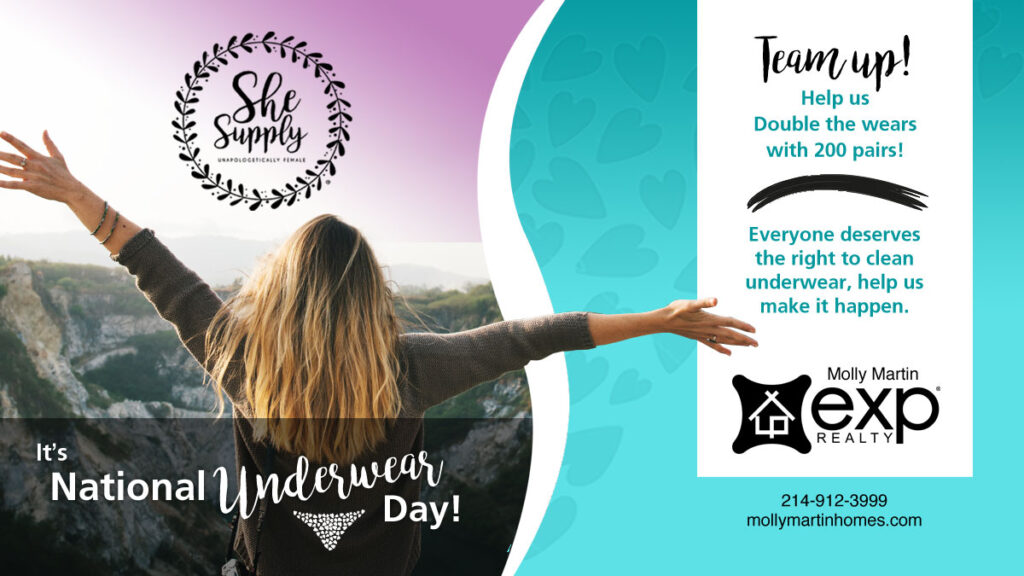 Why Choose She Supply And Molly Martin To Help Women In Need?
She Supply and Molly heard this day was coming up and knew it would be a great way to create awareness around this common issue while having a little fun!
They partnered up to have a positive impact on the lives of women in need in their community.
She Supply
She Supply's mission is to provide a sense of decency and cleanliness to women in less fortunate circumstances.
We do this by delivering feminine products to our partners across the DFW community.
Learn more about She Supply at shesupply.org.
New underwear is another one of those things that people don't think to donate right along with feminine hygiene products. But both are important!
Molly Martin Homes
Molly Martin is a professional Real Estate Agent servicing DFW. As an established Realtor, Molly represents her clients with ease. Her reputation is built on loyalty, commitment and sincerity. She strives to give her clients a seamless experience with each transaction. No matter where you may be buying or selling a home in DFW, you can count on Molly's expertise.
Connected in her community, Molly has been an active volunteer in the schools and her church, where she has worked countless hours over the years. She has a sincere, heartfelt drive to serve others and it shows in the details of her work.
You can learn more about Molly at mollymartinhomes.com or she can be reached directly at 214-912-3999.
Act Now!
There's never a better time than the present to make a difference.
And having your donations matched for the first 100 pairs makes it even better!
Remember — this is a limited-time promotion.
This fun underwear-raising event only lasts until August 8th.
To celebrate National Underwear Day with us and make your donation count, you can:
Tammy Edwards State Farm
972-355-7800
Open 9-5 pm, Mon-Fri.
Each donation is greatly appreciated. Every little bit helps in the fight for a woman's right to a sense of decency and cleanliness.