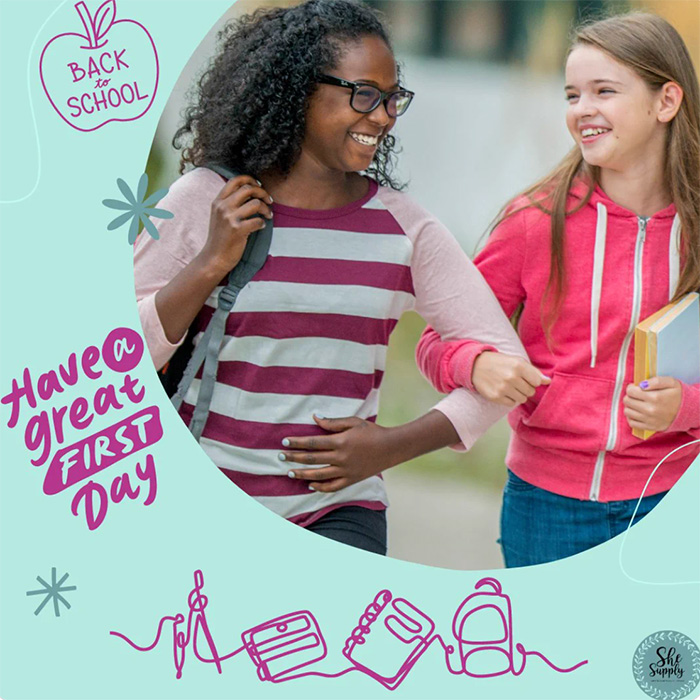 Every August, there are millions of kids across the country who are apprehensive and even anxious about going back to school. For some, it's simply the lament of another summer gone and the return to getting up early, rigid schedules, and loads of homework. But for the five million girls in the U.S. living below the poverty line, returning to school presents an additional, stressful – and altogether preventable – situation they alone are forced to navigate.
For women and girls living in poverty, when it comes to affording the essential things they need, there are no foregone conclusions. Not food. Not clothes. And certainly not feminine protection. In the more than 261,000 female-led households in North Texas living below the Federal Poverty Line, women often find themselves choosing whether to feed their children or buy period products for themselves and their daughters. It's not a choice any woman should have to make, and yet here we are.
On one hand, that may seem simply inconvenient, and it is. But what most people don't think about, is that when women can't afford period products, they cannot go to work four or five days out of the month. Every month. And for girls who can't afford tampons and pads, that means missing school a week of every month. Imagine how detrimental that is to the continuity of her education and her grades. Then double it.
In another draconian move, many schools that provide period products for underprivileged girls will force them to line up outside the nurse's office to receive their free products. It's not embarrassing enough for teenage girls to have to deal with their periods and their poverty at school. Now they have to do it on full display in front of the entire school. No wonder so many girls choose to simply stay home.
In 2016, the founders of She Supply saw this situation and decided to do something about it. Since then, we've joined with hundreds of others committed to helping restore dignity and cleanliness to women in need and we would love for you to join us. Admittedly, like so many social problems, you may be moved by the inhumanity and yet unsure about how to help change it. With regard to period poverty, here are four things you can do:
1. EDUCATE YOUR CHILDREN ABOUT THE REALITIES OF PERIOD POVERTY
While most adults are unaware of the true scope of period poverty, very few children have ever given it a thought. The truth is, solving period poverty will be generational. Teaching your children about the realities facing those less fortunate and encouraging them to help be part of the solution is both empowering and lasting. Teach your daughters and your sons about the very real level of poverty in North Texas. Challenge your daughters to look for other girls in need and to help them with period products when they can.
2. HOLD A DONATION DRIVE FOR SHE SUPPLY
At She Supply, our goal is to help end period poverty in North Texas, but we can't do it alone. Whether you choose to shop our Wish List at Amazon (link below) or hold a donation drive with your friends to collect tampons and pads for families in need, every collection moves us closer to giving every woman the protection she needs and deserves. Just this spring, a small but dedicated group of high school girls collected more than 10,000 products for She Supply. Every donation helps.
3. MAKE A FINANCIAL DONATION TO SHE SUPPLY
In addition to donating products, we are grateful for every financial donation made to support the She Supply mission. Every $25 donation buys period products for one woman for an entire year. $100 supports an entire family. Strong financial support also allows us to buy in bulk which makes every dollar go farther increasing the number of women and girls we can help. Consider setting up a recurring monthly gift. It's one less pizza, or a weekly latte less for you and a life-changing gift for families in need.
4. PRACTICE GENUINE EMPATHY TO THOSE IN NEED
Allow yourself to be moved by the mothers, daughters, sisters, and wives affected by period poverty and be inspired to help make their lives better. It's easy to get busy and miss the hurt and need that's right in front of us. We wouldn't think twice about giving a tampon or pad to a friend at work or even a woman we just met in a restaurant bathroom. How much greater to give that gift knowing it helps a Mom in need go to her job, or her daughter to go to school?
This year, She Supply delivered our One Millionth product to women in need in North Texas. With your help, we can deliver another million products next year. Will you join us?
To make a gift to support the She Supply mission to end period poverty in North Texas, please visit us at: shesupply.org/donations