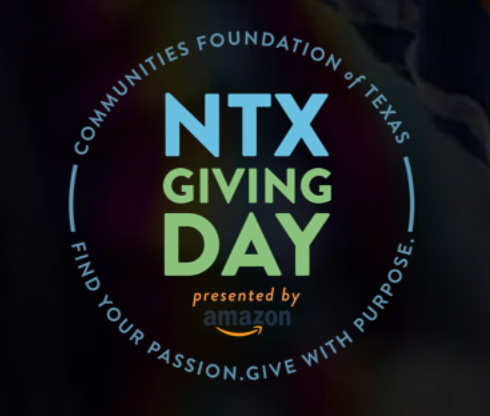 How much is $25 worth? It depends on who you ask.
Consider your day to day purchases. These days, $25 buys half a tank of gas. A large supreme pizza. Four lattes or two fast food combo meals. $25 can buy you two matinee movie tickets, or a large popcorn and drink. It's one new hardback book, five pounds of ground beef, or a nice bottle of wine.
Let's say you want to invest that $25 rather than spend it. If you invested $25 today and got 6.5% back annually, in 20 years, you'd have $88.09 thanks to compound interest. Not a bad return, but after 20 years, not much of an impact really.
But what if you could invest $25 in something that would yield exponential returns? Something that would make you richer and change the world at the same time. Would you invest $25 in something – or someone – knowing it could literally unlock extraordinary potential?
Today in North Texas, there are more than 150,000 female-led households and more than 2,400 homeless women who live below the Federal poverty line. For many of them, sadly, feminine protection is not something readily affordable. When a Mom is having to choose between food for her children or period products for herself, you know who comes second. At She Supply, we're fighting to change that.
For most of us, not having period products is at most an inconvenience. But for underprivileged women who can't afford tampons and pads, it's far more significant. No period products means having to miss work one week a month. For their daughters, it means having to miss school one week every month. Those effects also compound, but not in any way that's positive.
For a problem as big as families living in poverty, $25 may feel like a drop in the bucket that won't mean anything. But for a woman or girl in need of cleanliness and dignity, $25 means everything. Because your gift of $25 buys period products for that woman or that girl for AN ENTIRE YEAR! That's not just a bundle of pads and tampons. It's steady employment for a year. It's an uninterrupted year of education. It's a much needed feeling of normalcy and empowerment that can literally change the lives of the families being helped. That's why She Supply is on a mission to end period poverty in North Texas.
In DFW, September is the month we focus on community support culminating with North Texas Giving Day on September 21. The good news is you don't have to wait one more day to change someone's life. Early Giving started September 1 and your gift moves She Supply one step closer to our goal of collecting $30,000 in donations. It also moves us closer to matching gifts that can help us help more women and girls living in poverty.
Here are three ways you can support She Supply for North Texas Giving Day:
1. MAKE A PERSONAL DONATION
Your gift of $25, $50, $100 or more makes an immediate impact for underprivileged women and girls in need and every dollar donated flows through to buy period products. Make your donation today at: https://www.northtexasgivingday.org/organization/She-Supply 
2. ASK YOUR COMPANY TO CONSIDER A DONATION
A corporate donation to She Supply is an extraordinary way to honor your female employees by showing compassion and support for women in need throughout North Texas. We have companies that make straight donations, and ones that encourage employees to give with a matching donation from the company. Either way, your support is vital and meaningful. Please include our link in any communications: https://www.northtexasgivingday.org/organization/She-Supply 
3. SHARE YOUR GIFT AND OUR LINK ON YOUR SOCIAL MEDIA CHANNELS AND ASK YOUR FRIENDS TO HELP
Giving is contagious. The key is directly asking friends and family to help. According to a survey from philanthropic site Just Giving, sharing your personal fundraising story and why you support She Supply is far more effective than posting a general "ask" to donate to a charity. Consider these amazing giving statistics:
96% had been asked by a friend (of whom 67% always gave)
89% had been asked by a colleague (48% always gave)
84% had been asked by a family member (87% always gave)
70% had been asked by a charity representative (9% always gave).
Post once, or every day until North Texas Giving Day. Every ounce of your help is both significant and appreciated. Don't forget to include our link in your posts: https://www.northtexasgivingday.org/organization/She-Supply
This year, She Supply delivered our One Millionth product to women in need in North Texas. With your help, we can deliver another million products next year. Will you join us?
To make a gift to support the She Supply mission to end period poverty in North Texas, please visit our link for North Texas Giving Day at: https://www.northtexasgivingday.org/organization/She-Supply