Welcome to another Getting To Know The Board special!
Today we introduce – Lisa Pierce Johnson!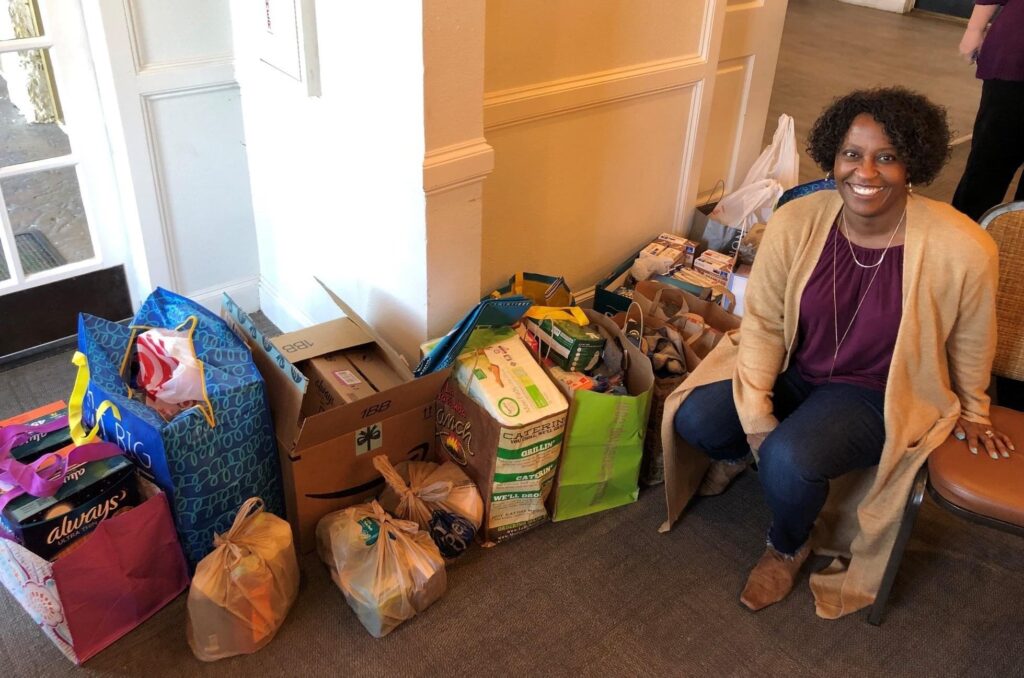 Lisa joined She Supply back in 2016. Since then she has worn many hats to keep She Supply moving forward. Her primary role now is speaking for the organization and as Vice-Chair.
Lisa was kind enough to share her thoughts on period poverty as well as her journey with She Supply.
When did you first hear the term – period poverty?
Lisa first heard about period poverty through Kathy Meyer. The two were having a phone conversation in the summer of 2016.
How did you get started with She Supply?
It was the summer of 2016 when Lisa met with Kathy and two other ladies — Shari Huska and Shari Mayes — for lunch. She met Maria Hernandez later in summer, late August or September.
They discussed creating a non-profit.
The rest of fall 2016 was spent planning! The group of five worked on creating, naming, and determining a mission that we all now know as She Supply.
Lisa is one of the five co-founders.
How long have you been with She Supply?
Lisa has been around since the beginning. The first meeting was in September of 2016.
What do you do at She Supply? What kind of tasks do you handle?
Lisa has served many roles during her time with She Supply.
At one time she was the secretary. She kept up with the monthly meeting minutes.
Lisa has also delivered products to She Supply's partner agencies in Dallas and Grapevine.
For two years, she worked with Tami Cannizarro writing grants.
Now Lisa is the Vice-Chair. In the rare absence of Kathy Meyers, she runs the meetings. She also does speaking engagements for She Supply.
What are your personal goals for the company?
Lisa would like to see She Supply be a vehicle for eradicating period poverty in their local communities as well as nationwide.
She sees She Supply as an opportunity to educate people about the issues.
On a more personal level, Lisa enjoys meeting with some of the young women they serve. They talk about their dreams, goals, and aspirations.
Lisa has had the pleasure of speaking at Blake's House for two years. During this time she has round table conversations with the residents. The experience has been extremely rewarding for her. She hopes it benefits the young ladies as well.
What do you like best about She Supply?
The dedication of the team.
She Supply's board and volunteers selflessly give their time, treasures, or talents in a manner that empowers other women.
Lisa is proud of the team they've built.
Is there an event She Supply has hosted that stands out in your mind or do you have a favorite?
Interacting with Blake's House residents each year is always a favorite small event for Lisa.
She loves doing round table conversations.
For big events — Lisa is happy anytime she gets to speak to large groups of people and share her passion for She Supply. She explains the luxury tax on period products and watches their reactions. Not everyone knows about it.
There are two big events that had the most impact on Lisa and that she enjoyed the most. One included being the speaker for Cross Timbers Rotary Club — which Lisa is a member of. She loves sharing her passion with her peers and She Supply was well received.
Lisa also enjoyed being in front of the 100 Women of DFW (Fort Worth Group) where She Supply was 1 of 3 non-profits. They were asked to speak and persuade them that their non-profit should receive the group's quarterly donation.
She Supply competed against the Ronald McDonald House and Habitat for Humanity, Trinity Branch.
She Supply ended up receiving the funds!
The 100 Women of DFW were impressed with their little non-profit.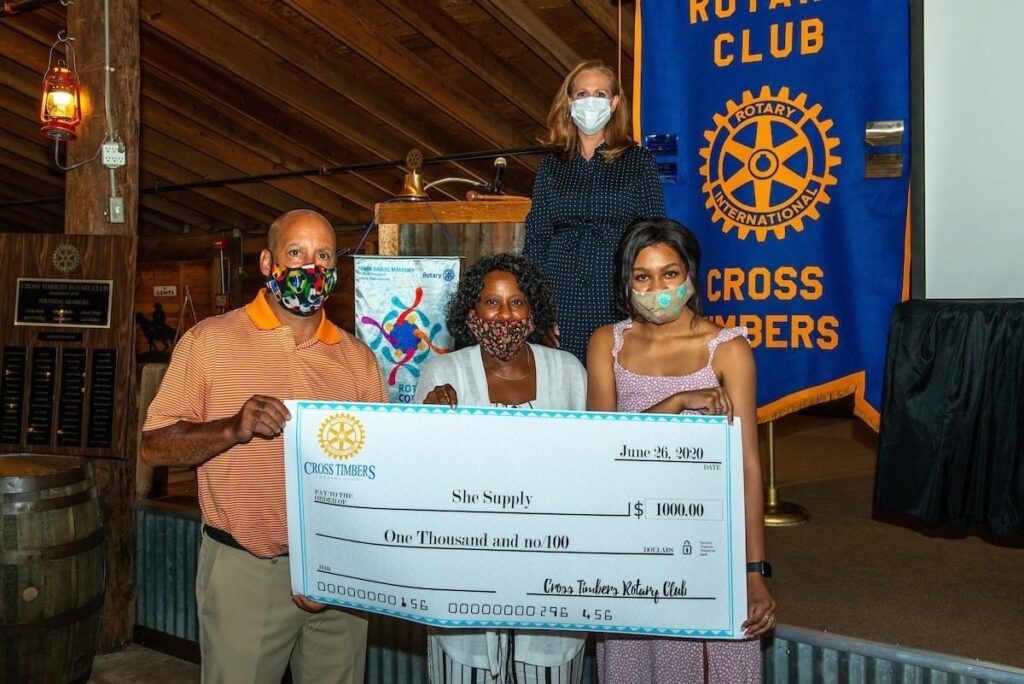 Bonus Questions
What about She Supply brings a smile to your face?
One of Lisa's favorite stories to tell an audience is about the luxury tax. She enjoys seeing the responses on the audience's faces and watch as they become just as passionate about that particular injustice.
What makes you pause?
The reality of the sheer number of people She Supply serves. The need is sobering.
Why volunteer instead of another activity?
Lisa serves on two other boards besides She Supply. She loves the community and serving. Being able to work on a board fits that need. Lisa is an empty nester and she wants her free time to be meaningful.
If you would like to help She Supply on their mission to provide a sense of decency and cleanliness to women in need —
Or if you would like to extend your donation even further: