Welcome to another Getting To Know The Board special!
Today we introduce – Sarah Gerber!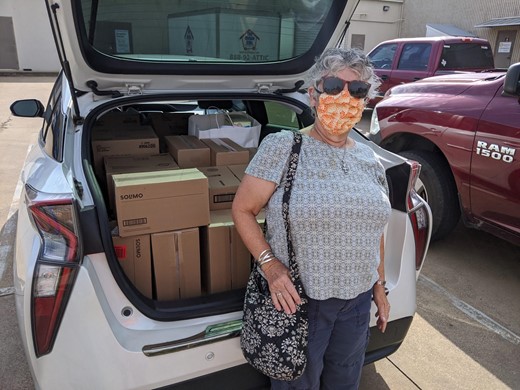 Sarah started her She Supply journey last January. She considers it a bright spot in what turned out to be a hard year.
(Thanks COVID.)

When did you first hear the term – period poverty?

Sarah first heard the term from Kathy. They were both at a meeting about children and poverty where Kathy talked about period poverty.
This event was held by Trietsch UMC a few years ago in conjunction with Hedrick Elementary School in Lewisville ISD.
Sarah volunteered at Hedrick until the school closed.

How did you get started with She Supply?

Sarah helped pack hygiene bags at church during volunteer days. She did this for a couple of years and was glad to be a part of the board after that.

How long have you been with She Supply?

One of the bright spots to come out of last year was Sarah starting She Supply.
She joined back in January 2020. It was a good point in what turned out to be a very difficult year.

What do you do at She Supply? What kind of tasks do you handle?

Sarah has quite a few tasks she keeps track of at She Supply.
She is the secretary. So she writes up thank you cards and meeting minutes.
She is also the partner manager for Tarrant County.
This involves her making deliveries to the five agencies She Supply works with there. She's always amazed by how much her Prius can hold!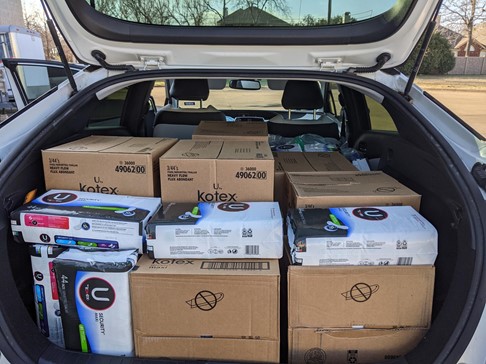 Sarah keeps in contact with employees at the agencies to be sure that She Supply is meeting their client's needs.
Another task that Sarah manages is monitoring the [email protected] account. People email when they have a donation for She Supply that they want to be picked up.

What are your personal goals for the company?

Sarah thinks She Supply is meeting a need in DFW area.
She hopes that they can expand to help even more women and girls obtain the hygiene products they need!

What do you like best about She Supply?

The most rewarding part of She Supply is the reaction to deliveries.
When they drop off a donation at one of their partner agencies, they see the big smiles on their faces. They always tell Sarah how much they need She Supply's products and how appreciative they are.
Is there an event She Supply has hosted that stands out in your mind or do you have a favorite?

The pandemic has gotten in the way of a lot of activities.
She Supply hosted a socially distanced wreath making party at Christmas that was a lot of fun!
The group is very creative.

Bonus Questions
What about She Supply brings a smile to your face?

Sarah loves how everyone works together for a common goal.

What makes you pause?

She is grateful for a chance to make a difference in their large community.

Why volunteer instead of another activity?

Sarah planned on doing volunteer activities when she retired.
She feels that She Supply makes such a difference in women's and girl's lives, that she choose them as the group she wanted to work with.
---
If you would like to help She Supply on their mission to provide a sense of decency and cleanliness to women in need —
Or if you would like to extend your donation even further: