Period poverty is still a term some people may not be familiar with.
A lot of us are fortunate enough to not even have to think about our period products past — Oh I need to grab something from the store really quick. I'm almost out.
Others struggle to go about their normal day to day life once their period hits.
One area that is hit especially hard is girls going to school.
If they don't have the products that they need, they are sometimes forced to stay home from school. According to a study conducted by Thinx & PERIOD, 1 in 5 teens have struggled to afford period products.
And more than 4 in 5 have missed class or know someone who has had to miss class because they weren't able to get the period products that they needed.
Two-thirds of teens have also felt stressed over the lack of availability of menstrual products they need. Their mental health is being impacted by this dilemma every time their period comes around.
Of course, this isn't an issue that only affects teens.
25% of women struggled to purchase period products last year due to income.
For states like Texas, period products are taxed as a luxury item. This means women in poverty can't use government assistance like WIC or food stamps to buy them.
This problem persists across many states.
She Supply is doing what they can to help fight period poverty in the Dallas/Fort Worth area.
They purchase and collect tampons, pads, new bras, and underwear. These items are then delivered to their 13 partner agencies located in Dallas, Tarrant, and Denton counties. The agencies distribute the products to those who need them most.
The women who receive these items have financial issues for a variety of reasons :
Illness
Divorce
Homelessness
Escaping Abuse
She Supply works with shelters, food banks, teenage group homes, domestic violence shelters, and even rape crisis to help these women in need.
The She Supply team has even taken a local basketball team under their wing to increase their giving game.
RL Turner Basketball
Laura Shepard — a booster mom for the RL Turner girls basketball team — is the one who reached out to She Supply.
Most of the students within the school qualify for aid so products for their menstruation aren't always a guaranteed luxury.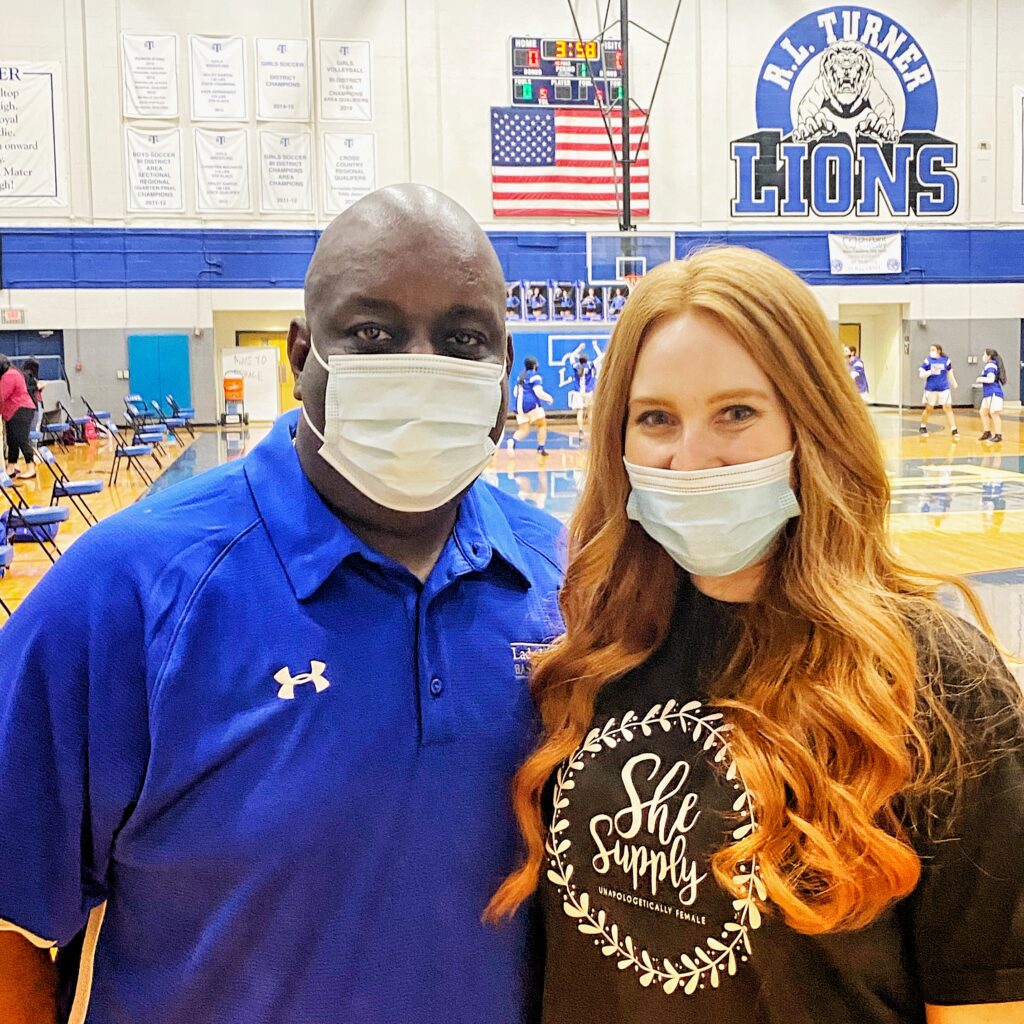 How She Supply Has Helped
She Supply started by donating 50 emergency bags for the team back in November 2019.
These bags included :
20 tampons
10 pads
Custom basketball soaps
Personal and inspirational notes
A drawer cart on wheels was also donated by She Supply Team. This allowed supplies to be kept right in the locker room for the girls to use.
In December 2019 the She Supply Team went one step further.
They made a delivery of over 11,000 pads and 2,500 tampons.
This donation helped the girls and their female family members have an 8 month supply of period products. For families who aren't sure what they'll do for their next cycle, these products are invaluable.
Support For The Local Community
She Supply hasn't only helped the basketball team with their feminine needs.
They've also become fans themselves!
Board members gathered together to go and cheer on the team. Tickets to the game cost $5. For families who are already struggling to choose period products or food — going to a game just isn't something they can do.
Especially during these hard times with the pandemic.
This means the girls don't always get the support of their families. Or many fans at all. If you've ever been involved in high school sports, you know how much having a family member — or even a large crowd — can lift your spirits during the game!
She Supply has been working with the team since November 2019. They were happy to be able to go and support them.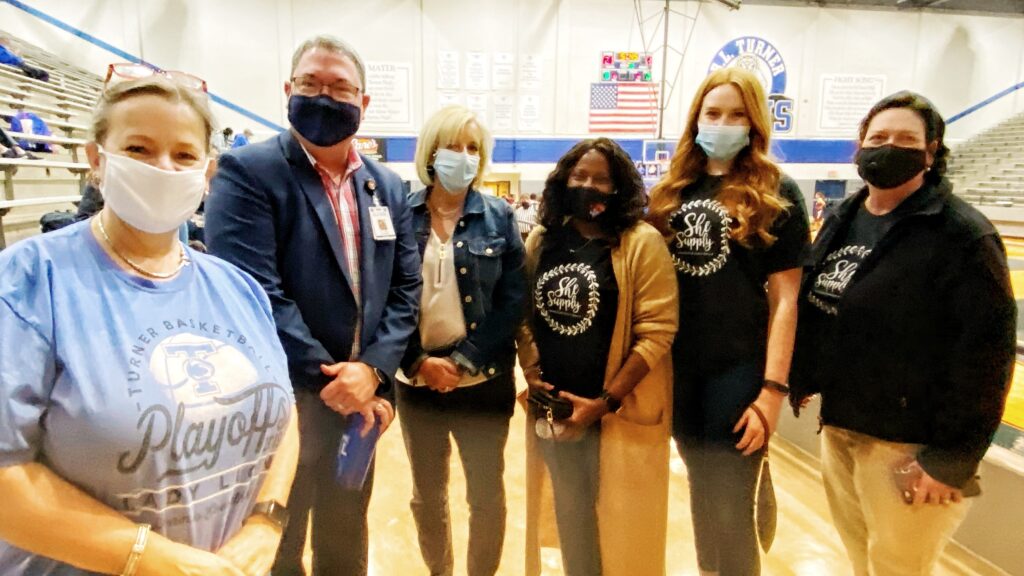 When asked if they would be able to help more schools in the future, Kathy Meyer — co-founder of She Supply — said: "We have done extensive analysis to determine the biggest need in our area. As our donor base grows, we are able to help more student-athletes in the areas of greatest need."
Kathy also answered what has it been like to work with the team:
"The generous compassion that Coach Jones has for his players is infectious in a good way. She Supply hopes to leave a fingerprint of worth and empowerment on these young ladies. We are at our best when we serve others, today it's new sports bras for ballplayers."
Kathy added:
"Did you know that basketball teams have jerseys of one color for home games and then different color jerseys for away games? These young ladies didn't need 1 sports bra but 2. We provided 1 black and 1 white for home & away games. The support needs to be specific and relevant."
Mallory Moser — Strategic Alliance Manager for She Supply — has been the point person for working with the basketball and soccer teams at RLT :
"High school is an arduous time for many students figuring out who they are and who they want to become. Pressures from peers, expectations of parents, balancing classwork and athletics, and making major decisions that will shape the rest of their lives happen during these tumultuous teenage years. At She Supply, we know how critical these four high school years are. Our mission is to provide support so that feminine hygiene is not another spoke in the wheel to these athlete's success. We support these young women so they feel empowered to keep working hard towards their goals and are ready for the journey that awaits them after graduation."

Summary
She Supply stands out from other period poverty companies simply because of how much they do for their local community.
They hope to expand their reach and help out other schools and women as much as they can!
If you would like to help She Supply on their mission to provide a sense of decency and cleanliness to women in need —
Or if you would like to extend your donation even further: