Welcome to the first Getting To Know The Board special!
Today we introduce – Kathy Meyer!
Kathy co-founded She Supply back in in 2016. Since then she has been working to provide as much aid as she can to her community and stretching their reach year by year.
Kathy granted us a unique opportunity to get her thoughts on not only She Supply but also on period poverty as a whole.
When did you first hear the term – period poverty?
September of 2016 is when Kathy started to research the problem and learn that there were homeless women, battered women, women living in poverty, and minor aged young ladies that couldn't afford products.
How did you get started with She Supply?
She Supply sprung from a conversation about women's poverty between Kathy and her cofounder – Shari. They were on a bus with the a bunch of kids doing a Trietsch Youth Choir tour.
They talked about doing a donation drive and quickly realized that the need was far greater than just one drive. And bigger than just one church or denomination.
It wasn't long before they took action. They formed a Board of Directors and launched She Supply in May 2016 during National Women's Health Week.
To read more on Kathy's journey – click here.
Kathy also got an opportunity to share the She Supply story on the How She Got Here podcast. Click here or listen to the episode on Apple Podcasts.
How long have you been with She Supply?
Kathy co-founded She Supply with Shari Mayes back in 2016. She Supply will be celebrating their 5 year anniversary in May 2021!
What do you do at She Supply? What kind of tasks do you handle?
Kathy is currently a chairwoman for the board.
That means she talks with funders, review grants, set agendas for board meetings, runs mid-year, and end of year reviews. She also ensures the procurement of products and manages distribution.
She Supply is an all-volunteer board.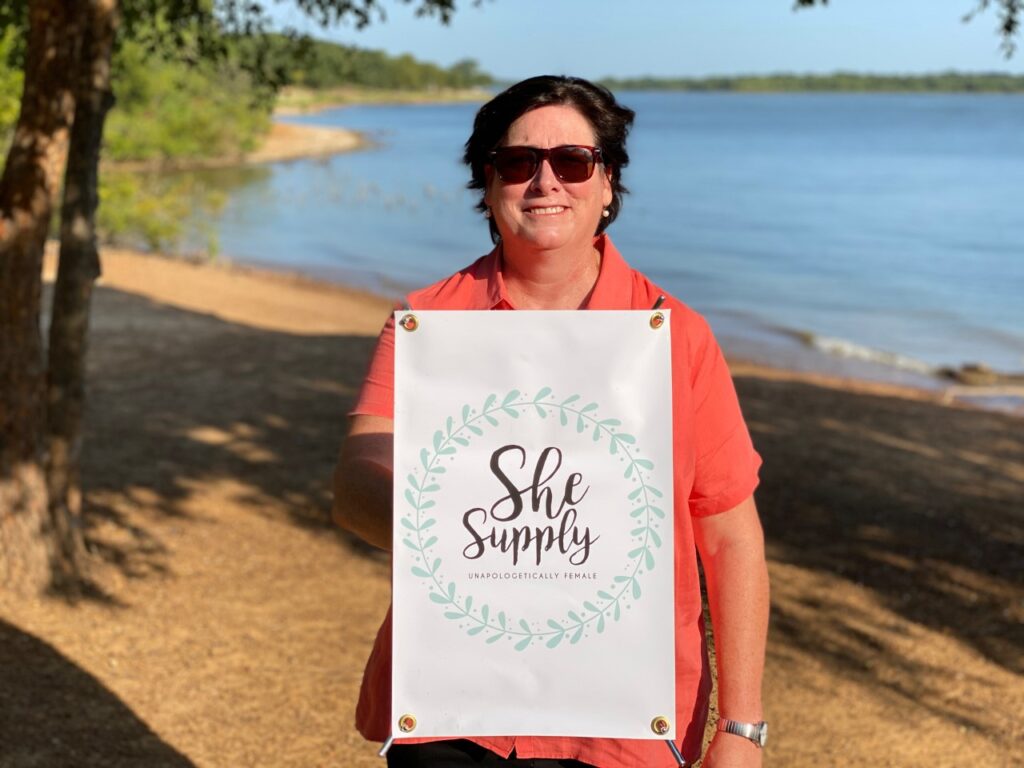 What are your personal goals for the company?
Goals for 2021 are as follows for both the women they serve and the board.
ENGAGE the community. Educate them about the challenges that women have when it comes to purchasing period products in North Texas.
ENRICH the lives of women in need by providing a necessity that most of us take for granted.
EMPOWER women in need by removing one monthly financial burden.
ELEVATE all women in the community through our gifts and our service.
ON THE OTHER SIDE OF THE SAME COIN –
ENGAGE – As board members, Kathy feels it's their job to engage (and educate) the community so they understand the challenges women face when it comes to period poverty.
ENRICH – As members of She Supply, they enrich their own lives not only by serving others but also by building friendships with each other.
EMPOWER – She Supply board members make a difference right in their own community by serving their neighbors and are empowered to involve the community as well.
ELEVATE – Not only should we elevate those in the community with feminine hygiene products, but as members of She Supply, we should elevate each other.
What do you like best about She Supply?
Kathy has many things she likes about She Supply:
The opportunity to help others
Working with her daughters
the logo
The volunteers
Learning about other nonprofits in the area doing great work
Is there an event She Supply has hosted that stands out in your mind or do you have a favorite?
She Supply hosted a No Selfie Saturday in 2018 and there were 85 attendees.
Of those attendees, 65 were from a local high school volleyball team that Kathy's daughter was a member of. These 65 young ladies showed up with feminine products and kitted them into bags of 10. They kitted over 25k items that morning. The energy and positive vibe in the room was awesome.
The board also attended a high school girl's basketball game back in November. They were happy to cheer for them! The team doesn't have many fans due to their parents working multiple jobs and the ticket prices.
She Supply has supported this team with feminine products, underwear, sports bras, and several canned food drives.
To learn more about how She Supply has helped this team – click here.
Bonus Questions
What about She Supply brings a smile to your face?
A vehicle fully loaded with feminine products headed to a partner agency.
In Kathy's family, there are 3 Jeeps that make deliveries.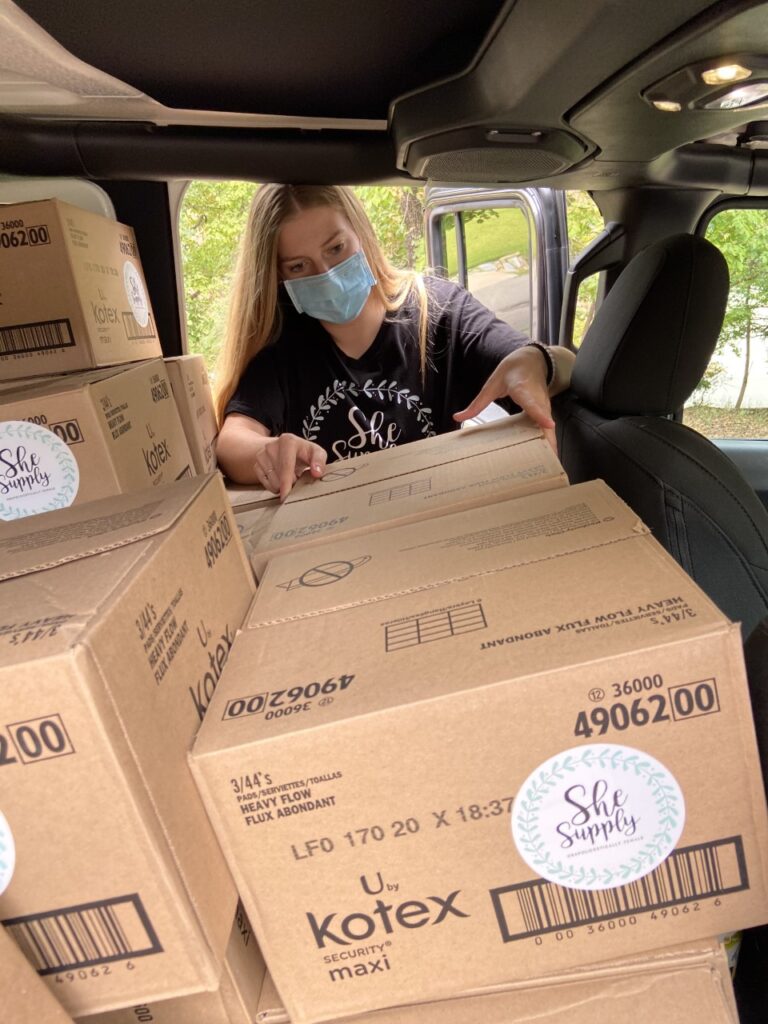 What makes you pause?
A partner agency requests underwear from She Supply because they treat sexual assault victims. They keep a dresser full of underwear for the victims that come to them before going to the Emergency room.
Why volunteer instead of another activity?
Kathy has volunteered with Girl Scouts, The North Texas Food Bank, and Dallas Pug Rescue in the past.
She knows that She Supply makes a difference with every dollar that is donated.
---
If you would like to help She Supply on their mission to provide a sense of decency and cleanliness to women in need —
Click here to donate.
Or if you would like to extend your donation even further: