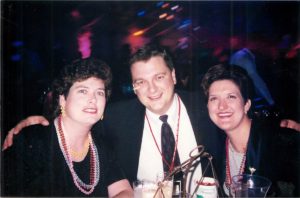 A year ago, on July 28th, I blogged about one of my best friends, Maria. The blog started with "One of my best friends, Maria, is an executive at a NY Advertising agency. I am very proud of her.  She is one of the smartest marketers I know."
Writing is hard for me but writing about Maria is easy. The best kind of friendships are the fierce female friendships where you aggressively believe in each other, defend each other, and think the other deserves the world.
I met Maria in the fall of 1997. She was interviewing for a position at the same company I had joined six months before. We sat by each other the first year, while the new office was being built. I was pregnant with my first daughter. I was gaining weight, hormonal, sick and just not "right" but Maria kept talking to me. We became friends.
Over the years, our friendship has included corporate layoffs, losses of our beloved Dads and currently caring for our Moms. Maria is affectionately referred to as "Aunt Maria" by my girls because she deserves the title. I want my girls to know strong and smart women. It's important to me to help them establish their network at an early age.
Maria is a big advocate for rescue pets and especially Chihuahuas. Truth be told, she has her own Chihuahua "rescue" with four full-time furry babies. It all started with Pedro, but that's another story.
Maria and I are now working together on the Board of Directors for She Supply, a non-profit that provides feminine hygiene products and undergarments for underprivileged women. Maria knows my heart and can read my mind at times when I can't find the words. I trust her judgment and rely on her expertise. I wish everyone had a best friend like her.
On this, Best Friends Day, I am reminded of Maria and of one of my favorite quotes from Shauna Niequest, the author of Bittersweet: Thoughts On Change and Grace. "I believe deeply that God does his best work in our lives during times of great heartbreak and loss," she says. "And I believe that much of that rich work is done by the hands of people who love us, who dive into the wreckage with us and show us who God is, over and over and over."
As we continue reaching out to help women suffering from a history of violence, a lack of self-esteem, a legacy of homelessness, we invite you to come dive into the wreckage with us. To make a difference in the lives of these women. To make a difference in yours as well.
Email us questions to Shesupply@gmail.com