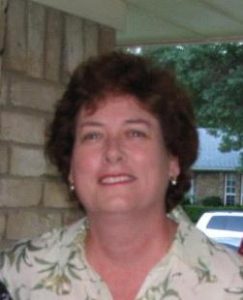 Kathy Meyer shares how the willingness to say "yes" led her to establish She Supply.  This post was originally shared on the Trietsch Memorial United Methodist Church blog (tmumc.org/shesupply) and we thank them for sharing our mission.
Seek and ye shall find. I have heard that all my life. What I didn't know was that sometimes the path is hard to see if you're wearing blinders. It wasn't until I found grace to let God lead me from within that I understood.
It all started on the Walk to Emmaus. I learned so much, and my prayer life changed. My ability to recognize opportunities changed. It was a few months later on a Trietsch Youth Choir tour that God presented an opportunity.
So there I was on a bus with a bunch of kids on the way to Birmingham. If you don't know about the youth choir, it is led by Amanda Evans and the trips are full of amazing "God moments." On the trip, Shari Mayes spoke to me about women in poverty who do not have access to feminine hygiene products — the most basic necessities of being women. "Would you be interested in discussing the idea of doing something like a donation drive?" she asked. Instead of politely changing the subject, I said yes.
One of my favorite quotes is by Pastor Mark Batterson of National Community Church in Washington, D.C.:
"God is in the business of strategically positioning us in the right place, at the right time. God is awfully good at getting us where he wants us to go. But here's the catch: The right place often seems like the wrong place. The right time often feels like the wrong time."
Clearly, on that trip, God put me in the right place at the right time. Shari and I quickly realized that the need for products was bigger than just one donation drive — or even one church. I was overwhelmed when I realized what God had called me to do. With His grace, I didn't run away.
I prayed. We prayed. Then we took action. We created a board of directors and started building the foundational elements of a nonprofit organization. What I call "God winks" started to happen — a branding agency in New York helped us name our organization and develop our brand identity pro bono, we found counsel to assist with the legal forms to create a nonprofit recognized by the State of Texas, we applied and were granted IRS 501(c)(3) status, we created a website, and we started a social media presence. We launched She Supply, Inc., in May during National Women's Health Week.
The members of the board of directors are all new to starting and running a nonprofit. It's been hard — and scary — but I have experienced a new kind of faith, whether it's meeting the right person to help at the right time or having a problem resolve itself. This entire experience has had God's fingerprints all over it in some way. I received one affirmation — a God wink or "That's my girl!" — after another, which made it crystal clear that this is what I was supposed to be doing. I like God winks!
As I look back on my career, education, employers, and network, I realized that God was crafting my resume to give me the experience needed to start a nonprofit. Moving feminine products from a manufacturer to a She Supply benefactor is transportation and logistics. Would you believe that I work for FedEx, the No. 1 transportation and logistics company in the world?
Who am I? I am a believer, member of Trietsch, mom, wife, daughter, employee, Aggie mom (Whoop whoop!), Girl Scout leader, friend, instructor, mentor, caregiver, and the co-founder of She Supply, Inc.
"There are no comfortable problems left to solve. All we are left with are the uncomfortable ones."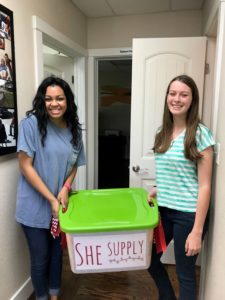 – Best-selling author Seth Godin
Our goal is to help women living in shelters, in poverty, or in an unfortunate situation from having to choose between paying for food, rent, or feminine hygiene products. Watch our video and hear how you can impact a woman's life.
Explore our website to learn more about what we do and join our cause. We are looking for supporters who won't avert their eyes from problems but rather will join us on our journey to empower women by supplying them with bare necessities.