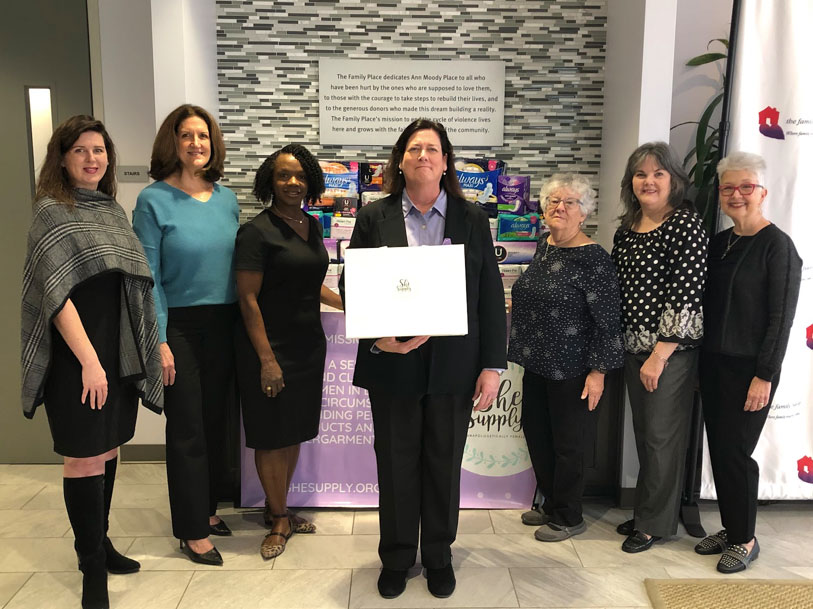 The number ONE MILLION holds a mythical place in American culture.
"Wait until I make my first million."
"He looks like a million bucks."
"She's one in a million."
Whether we're talking money, or votes, or collected items, things counted in thousands and tens of thousands are impressive. Getting to a million is a game changer. It's a milestone.
When She Supply founders Kathy Meyer and Shari Mayes founded their nonprofit in 2016 to help deliver period products to women and girls living in poverty, they always believed the day would come when they would reach one million products collected. But no one believed that day would arrive as quickly as it has.
On January 18, after just six years of service collecting and purchasing period products and undergarments to give to women and girls who can't afford to purchase them on their own, She Supply will distribute their one millionth product to The Family Place, one of the nonprofit's primary partners, in a special ceremony.
"There are more than 150,000 female-led households in North Texas living below the poverty line and nearly 2,500 women who are homeless," notes Kathy Meyer. "We started She Supply to fight the effects of poverty through service and friendship and to provide a sense of dignity and cleanliness to women in less fortunate circumstances. Every day in North Texas, there are thousands of women who can't go to work, can't go to an interview, can't leave the house because they can't afford to buy feminine hygiene products. There are thousands of girls who miss school every month because they don't have access to or can't afford period products. Period poverty is a real issue. We're thrilled and grateful to have reached a million products, but this is just the beginning."
Thanks to donations and valued partnerships with the Alliance for Period Supplies and committed brands including Kotex, Always, Honey Pot, and Thinx, community product drives, grants, and the organization's robust team of volunteers, She Supply provides pads, tampons, and undergarments to help close the resource gap at 15 partner agencies in North Texas including City Square, 6 Stones, The Fort Worth Hope Center, The Salvation Army, and RL Turner High School.
"While She Supply is grounded in servant leadership and friendship, at our heart, we're about female empowerment and changing lives," Meyer said. "Unless you've seen its effects, period poverty is something most people never really think about. But for those affected, it's paralyzing."
Current She Supply Program Director Denise Angarola further illuminated how difficult it can be for women and girls living in poverty to get the protection they need. "Under present rules, women in poverty cannot buy period products with food stamps, a Lonestar Card, or WIC. And unlike other "basic necessities" that are tax exempt, tampons and pads carry a value added tax that unfairly burdens women and especially women in need. Period poverty for 150,000 families is tragic but it's something that can be fixed. We're proud to be among the many working to remedy that condition here in North Texas and we're excited to start collecting our second million products today."
Help us end period poverty in North Texas with a tax deductible donation today.